A forest for Milan city centre with GEDA involved in a unique architecture project
"Il Bosco Verticale" (The Vertical Forest) is the name of a building complex currently being constructed in the centre of Milan. It consists of an eleven-storey office building and two high-rise apartment blocks with 18 and 26 storeys and heights of 87 and 119 metres respectively.
What makes them so special is that both the residential buildings are equipped with huge reinforced concrete balconies which are planted with numerous flowers and shrubs creating the appearance of a "vertical forest". The building will be ready to move into later this year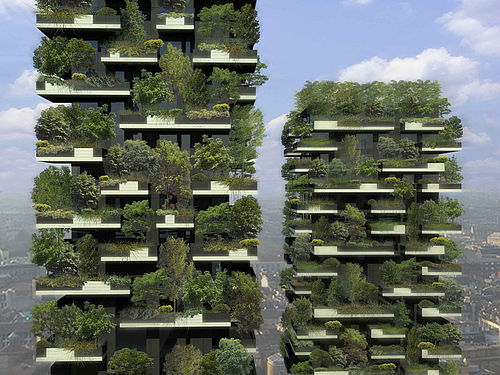 Its own eco-system in the midst of a modern metropolis

Environmental and climate protection have long been integral aspects in the building trade. However, Italian architect Stefano Boeri is pushing the boundaries of ecological high-rise building design into new nature-compatible directions. A total of 120 large and 544 medium-sized trees and over 4,000 bushes and shrubs take on the important functions of a forest, namely producing oxygen and reducing carbon dioxide. The future residents will benefit from protection against wind, noise and dust. In summer the treetops will provide shade whilst the lower winter sun will let light and heat through the bare branches. The seemingly random layout of the balconies is also part of the design since they help make the "Vertical Forest" look as natural as possible and create sufficient space for planting.

Gardner wanted. GEDA Façade Cleaning Hoists found.

However, "Il Bosco Verticale" does have a few maintenance challenges. In addition to the necessary façade cleaning, the numerous bushes and trees must be cut at regular intervals and the irregular layout of the balconies which jut out 3.35 metres presented a particular challenge here. Therefore a highly-intelligent solution had to be found to ensure that this garden maintenance was carried out in as simple and secure a manner as possible.
Therefore the construction company ZH General Construction Company AG decided upon two façade cleaning hoists from the manufacturer GEDA-Dechentreiter GmbH & Co.KG.
Based in Asbach-Bäumenheim in Bavaria, Germany and which over the last few decades has developed into a leading worldwide manufacturer of construction and industrial hoists. Spanning small 60 kg rope hoists for workmen up to 3.2 tonne passenger hoists with lifting heights of up to 400 metres, the GEDA product range could not be wider.
Both the GEDA-FBA F-TH-4-F façade cleaning hoists for "Il Bosco Verticale" were developed and produced in Gera at the site of a subsidiary of the Bavarian mechanical engineering company.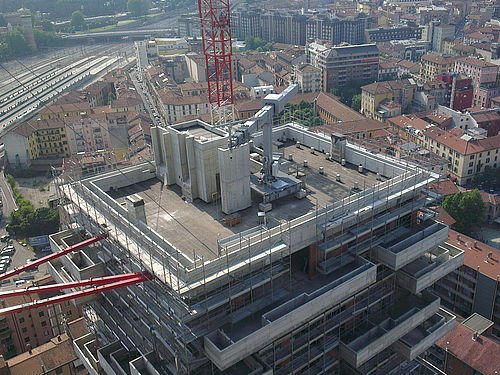 The GEDA-FBA F-TH-4-F have been installed permanently over the treetops of the two residential buildings. The façade cleaning hoists are each authorised for a rated load of 240 kg. Using two telescopic booms with an outrigger of up to 26 metres, the hoists safely transport two people in the personnel lift (PL) along the façade. From the PL the fronts can be cleaned at any height and the trees and shrubs on the balconies can be cut. The drum lifting gear enables the lifting and lowering of the personnel hoist at a speed of 12m/min. All positioning movements for the PL are motor-controlled. Lifting heights on "Il Bosco Verticale" are 119 or 87 metres. A load winch has been incorporated in order to change glass or other elements. On "Il Bosco Verticale" these can also be used to exchange trees.
All GEDA façade cleaning hoists are designed, manufactured and commissioned in accordance with EN1808 – Safety requirements on suspended Access Equipment. GEDA will of course plan, design and manufacture special systems adapted to their intended use. In addition to the provision and installation of systems for new buildings, the company also exchanges old devices for new.

Perfect "look" thanks to GEDA

The "Il Bosco Verticale" high-rise complex is part of the "Porta Nuova" city development project in Milan. Where previously the cityscape was punctuated with fallow industrial sites, today modern residential and office buildings, hotels, conference centres and cultural centres are springing up across an area over 330,000 m². The "horizontal areas" surrounding the "vertical forest" have also been laid out with their own green spaces. Milan is therefore not only setting the benchmark is fashion, but also in architecture. And thanks to the two GEDA façade cleaning hoists, the necessary "beauty enhancements" will be perfectly taken care of.


---