A perfect trio at Mainz Cathedral
Mainz Cathedral is more than 1000 years old and is the result of centuries of active building work by Mainz archbishops and canons. It is located at the centre of Mainz's old town on the west bank of the Rhine and is an attractive tourist destination. Extensive general renovations of the inside and outside of the cathedral were agreed in 1997. In March 2001, renovation work finally began with the erection of scaffolding on the north-side flanking tower of the east section. Work was divided into separate renovation stages and a cost estimate was made. The result: The total renovation of inside and outside the cathedral was estimated at 25 million Euros (which was 50 million Deutschmarks at the time). Renovations were planned to last for 15 years.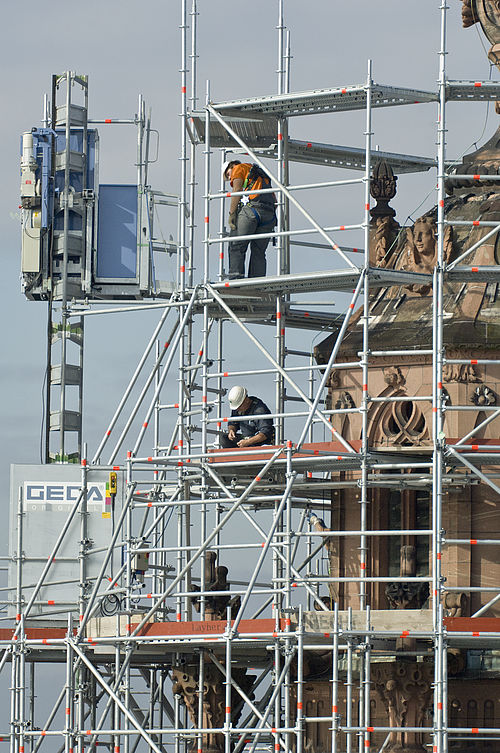 Working efficiently and safely

Such extensive and costly overall renovations need detailed planning with reliable and professional partners. A basic condition for this is an efficient method of working while maintaining all safety regulations so that services, tours and the general public are not endangered or negatively affected. The overall appearance of the wonderful cathedral should also be impaired as little as possible over the years of building work. The roof of the north/west tower and the dome, among other parts of the cathedral, have been under renovation since June 2010. Tools, building materials and authorised workman access their workplaces over three levels using construction hoists from GEDA. Three different so-called transport platforms are used here; each model is permitted for transporting up to 7 persons and 1500 kg of material. The double-mast guided transport platform GEDA 1500 Z/ZP is employed from the ground station up to a height of 33 m. The platform in turn leads to an extra transfer platform. Workmen and materials then travel another 36 m in a GEDA 500 Z/ZP in order to traverse the last 15 m at a considerable height using another transfer platform. This is where GEDA's smallest transport platform comes into play, the 300 Z/ZP, which is also permitted for transporting people. This platform was recently presented at bauma 2010. It has all the benefits of GEDA transport platforms, such as being used as a construction hoist or transport platform (it has two separate controls), safety features (limit switches, safety gear, overload protection).

The GEDA 300 Z/ZP is also ideally suited for use in narrow yards and entrances thanks to its compact design and folding work platform.

In terms of being used in Mainz, structural and space-related aspects played a role in selecting this particular height access technology. The units were sold or hired out by the GEDA dealer AS Dienstleitungs- und Montageservice from Mainz to scaffold company Hecht Gerüstbau. A service life of up to three years was reckoned in total. The Mainz-based dealer also takes responsibility for regular servicing. The combination of different GEDA transport platforms ensures safe and efficient renovation work.

The 1.5 m long uni-steel mast is easy and convenient to erect due to its modular design not only for the 300 Z/ZP and 500 Z/ZP, but also for the 1500 Z/ZP, from Bavarian manufacturer GEDA-Dechentreiter GmbH & Co. KG. This steel mast also fits all GEDA rack and pinion hoists and all GEDA transport platforms for people and loads from 300 kg to 2000 kg. This means lower investment costs and less storage/transport volume.
GEDA project Mainz cathedral, Germany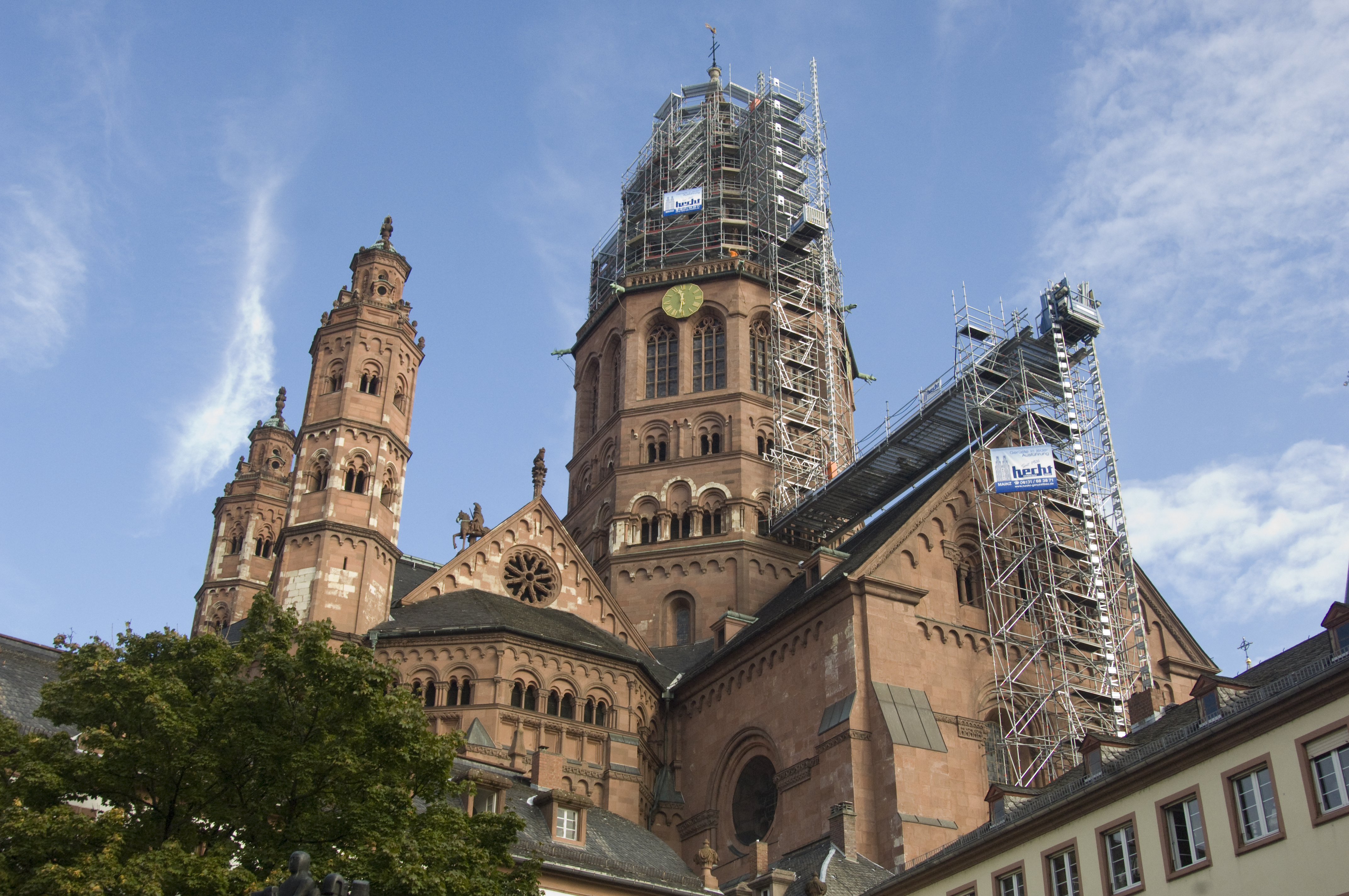 ---