First crane operator hoist in use in Ireland
GEDA and Mace Industries deliver GEDA 2 PK to the National Construction Training Centre in Ireland
The first GEDA crane operator hoist has made its way to the "Emerald Isle". The GEDA 2 PK is being used in Ireland for training purposes on a SAEZ tower crane.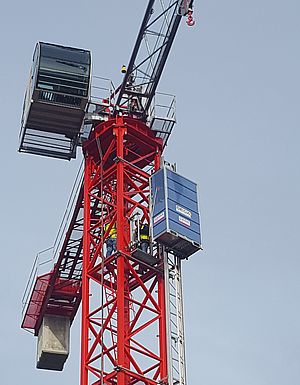 One of the remits of the National Construction Training Centre in Mount Lucas is to further improve safety standards on Irish building sites. Therefore, as part of a comprehensive training provision, all employees working in the construction sector now have the opportunity to acquire the necessary qualifications and relevant certificates in accordance with the Construction Skills Certification Schemes (CSCS).

To train crane operators the company Mantis Cranes has supplied a SAEZ TL50 tower crane equipped with a Geda 2PK elevator to the National Construction Training Centre.
Mantis Cranes is a family-run business specialising in crane rentals. The company supplies state-of-the-art and wide-ranging crane rental equipment throughout Ireland and in the United Kingdom for diverse applications and requirements for customers from all over the world.
Adapted specifically to the requirements and circumstances at the National Construction Training Centre, a crane operator hoist from the manufacturer GEDA-Dechentreiter GmbH & Co. KG is also being used on the tower crane. The delivery was organised by GEDA's long-term partner, Mace Industries, who are also supporting the Training Centre with comprehensive services.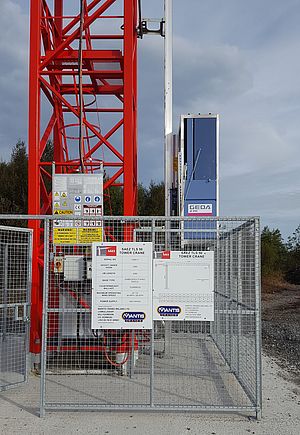 Safe and quickly to the top

The GEDA 2 PK transports the crane operator quickly and above all safety to lofty heights. This means no more risky, arduous climbs with the crane cab being reached safely and quickly whatever the weather conditions.
Once the base unit of the rack and pinion hoist is assembled and anchored, the aluminium ladder sections, weighing only 22 kg, are installed through the open cabin roof and, using the patented quick-release connections, easily assembled without any screws. Special rail anchoring provides tension-free attachment to the crane mast.

The flexible system means the elevator can be assembled on all crane types from all manufacturers and as standard up to a height of 150 m. It is therefore a safe and fast means of transport for crane operators as well as for service personnel and materials. For Mantis Cranes this benefit was one of the decisive arguments in their decision to deploy the GEDA 2 PK. This is because, even at the manufacturer SEAZ, crane masts vary from crane to crane and therefore require a flexible and adaptable solution. The GEDA 2 PK is now used throughout Europe by numerous crane rental companies and is highly regarded for its unique reliability.

The hoist is operated from the control panel in the car; an option to control externally or from the car is also available. When opening the car door, a small ramp with side protection folds down and, in conjunction with the access barrier on the crane, ensures safe access to the car. The GEDA 2 PK complies with the European Machinery Directive.
The crane operator hoist can also act as a life saver in an emergency since the emergency rescue of unconscious or ill crane operators can be carried out very quickly by the GEDA 2 PK. Without a crane operator hoist a time and cost-intensive helicopter is generally needed.

You can see the GEDA 2 PK in use at the National Construction Training Centre in Ireland here: www.youtube.com/watch

---