First use of space saving GEDA 300 Z/ZP in Paris
With its nooks and small streets the French capital Paris is having its own special charm. But what if a transport platform has to be erected for the renovation of an old building in one of these small one-way streets?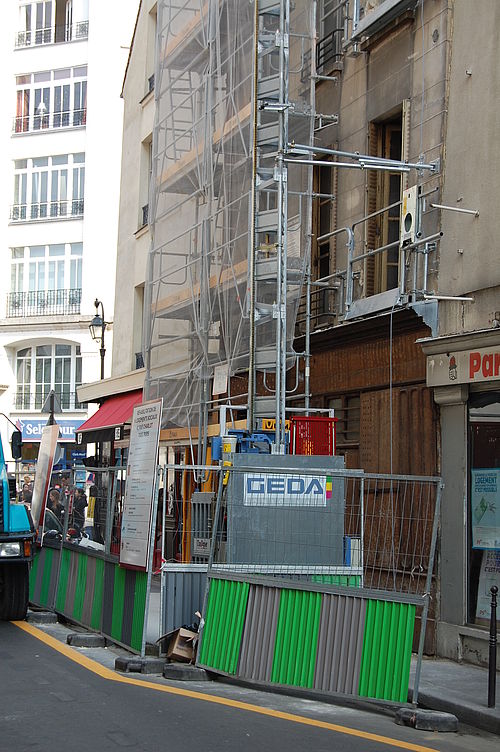 With exactly this special application company Chastagner (based in Département Île-de-France) came up to the Bavarian hoist manufacturer GEDA-Dechentreiter GmbH & Co.KG.

Beside the fact that only very limited space is available for setting up the transport platform another problem occurred, namely that in many old buildings in Paris no high voltage currency is at hand. There is need to apply for it and it can take months.
This was also the issue in case of the renovation project in the 3rd district, the so called "arrondissement du temple", at the right bank of river Seine.

Innovative transport platform GEDA 300 Z/ZP meets the requirements

The smallest GEDA transport platform 300 Z/ZP is especially designed for small pavements, narrow gateways and backyards. Convincing arguments for using this machine are the compact design and also the possibility to transport persons with it. Plus the fact that beside a 400 V version also a 230 V variant is available. Particularly this model can score in comparison to competitive products: simply attach to the existing power supply and ready to go – without extensive applications for high voltage.

Chastagner was able to convince the local building company of the advantages of the GEDA 300 Z/ZP and for this reason this transport platform is going to be on duty in Rue Charlot until summer 2011. With a lifting speed of 12 m/min up to 3 persons and material with a total weight of 300 kg can be transported. Looking at the cramped conditions at site the platform with its dimensions 1.32 x 0.8 m is a real "space miracle".

Even more features

If necessary the platform of the GEDA 300 Z/ZP can be folded up so that it can be effortlessly transported through a doorway or an opening. A fork take-up point as well as a flat cable bin are included as standard. Of course the GEDA 300 Z/ZP offers all well-known advantages of GEDA transport platforms, such as the usage as construction hoist or transport platform (possible by using two individual control units).

Further pros for this machine are the safety features (limit switches, overspeed safety device and overload switch-off) as well as the use of the standard 1.5 m GEDA UNI mast modules. These masts are also being used for the "big brothers" of the GEDA Transport Platform series and the GEDA Rack and Pinion Hoists. This means lower investment costs and less storage/transport volume.

Safety Plus

During the reconstruction project in the centre of Paris the four loading and unloading places on different levels of the building are secured by GEDA Landing Level Safety gates "Comfort" which are fixed to the wall. All types of GEDA Landing Level Safety Gates fulfil the demands of to the new Machinery Directive 2006/42/EG.

It is for sure that the "small" GEDA 300 Z/ZP will not only get big in the city of love but will find new lovers anywhere at projects in European city centres.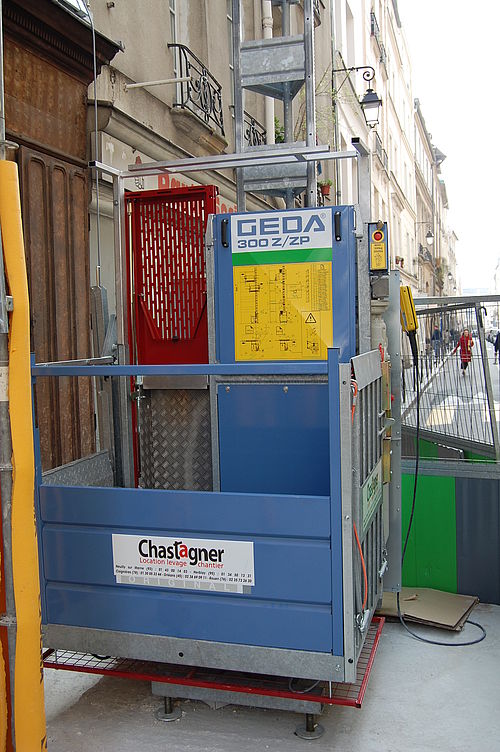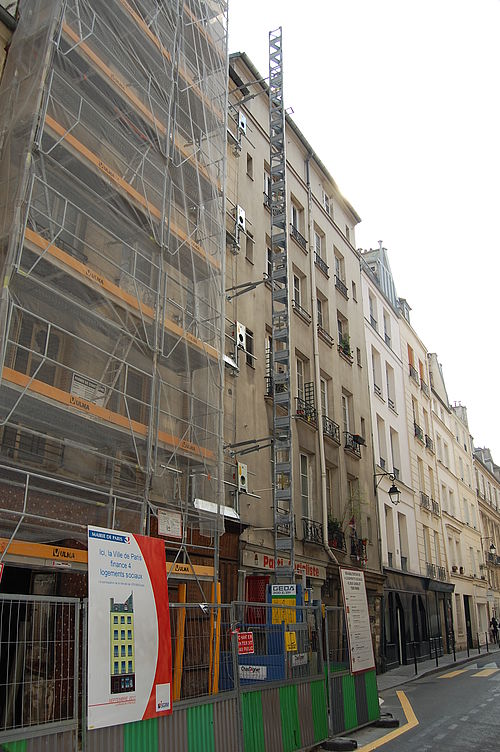 ---