GEDA at bauma CTT Russia 2019
Construction and industrial hoist manufacturer exhibits product range in Moscow
bauma CTT Russia is the leading international trade fair for the building materials and construction industry with a 20-year success story. Representatives from industry and commerce as well as service providers from the building materials and construction industry came together at the Crocus Expo International Exhibition Centre in Moscow from 4 to 7 June 2019. As part of the bauma network, bauma CTT Russia is organised by Messe München, one of the world's largest trade fair companies.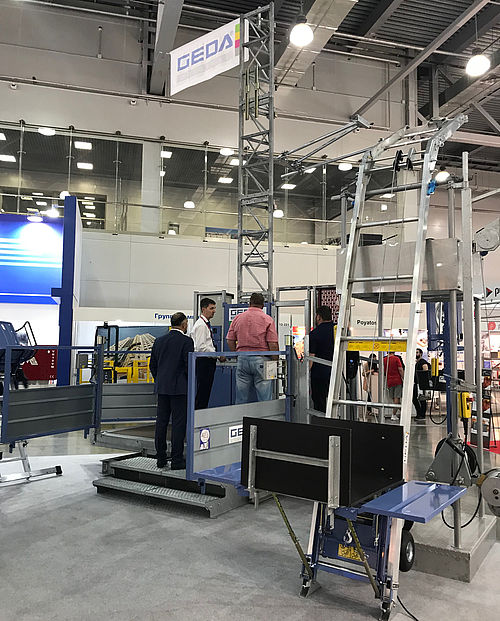 Bavarian manufacturer of construction hoists and industrial elevators GEDA Dechentreiter GmbH & Co.KG was one of the exhibitors from across the world.Following on from its successful exhibitions there over the past few years, the GEDA trade show team once again travelled to the Russian metropolis for the CTT. Numerous visitors from across the world were able to examine the company's wide range of products at the GEDA stand.
Many trade fair highlights
In addition to a selection of compact rope lifts such as the GEDA Maxi, the GEDA Star and the GEDA LIFT, of which more than 80,000 units have already been sold, the stand also presented the GEDA 1200 Z/ZP person and material transport platform.
The GEDA BatteryLadderLIFT was presented at bauma CTT Russia for the first time. The innovative material hoist uses a powerful 24 V/10 Ah lithium-ion battery drive and different platforms to transport all materials up to 120 kg with a lifting speed of 15 m/min. Any height from 2.1 m to 10 m can easily be reached through a clever combination of the stepladder and/or lean-to ladder using the convenient ladder joining kit. Even when the GEDA BatteryLadderLIFT is not needed, the versatile robust ladder can be used as a traditional construction site ladder.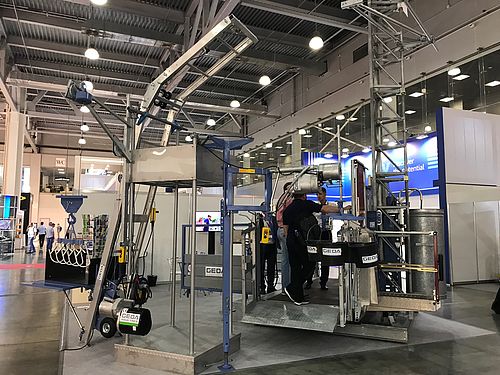 Johann Sailer, Managing Partner of GEDA, gives a positive summary of the trade fair: "The Russian building materials and construction industry is showing quite positive signs of growth. Further work on the general conditions is necessary, though, to strengthen these signals in the future. Particularly in economically difficult times, it is important that we show up in person and present ourselves as an exhibitor at bauma CTT Russia."
Focus on customer proximity
The international character of bauma CTT Russia makes it an ideal springboard for accessing the target markets of Russia and the CIS while also serving as an ideal business platform for information exchange and worldwide collaboration. The establishing of both GEDA MAJOR in Istanbul in Turkey at the end of 2012 and of the company's own subsidiary in Moscow in 2008 has been allowing GEDA to provide targeted services to these markets for some time now.
With another successful participation at CTT, the German construction hoist manufacturer has taken yet another step in supplying the markets of Russia and the CIS with its unique hoist solutions.
---