GEDA in the dizzy heights of fashion
A newly built warehouse for the luxury online store mytheresa.com has recently been given extra support from a GEDA 300 ZP P permanent transport platform.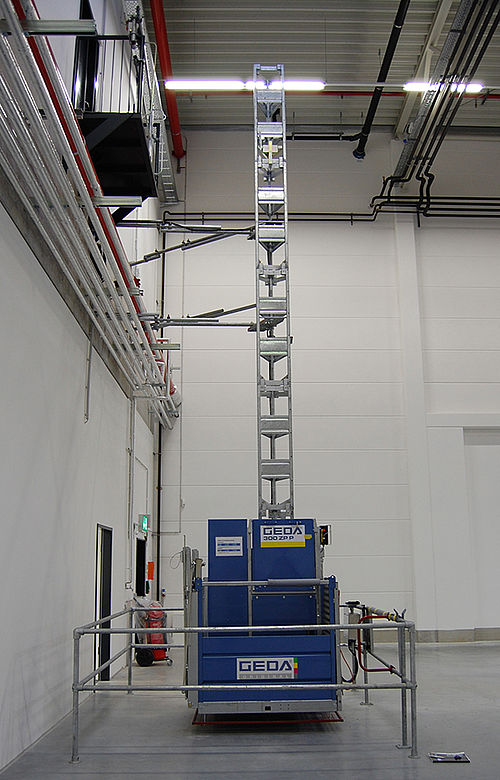 The GEDA 300 ZP P, 500 ZP P and 1500 ZP P permanent transport platforms have proven their worth many times in the last few years as very useful devices for transporting both people and materials high up to asphalt mixing sites, gravel works, silos etc. In fact GEDA is always ready to lend a hand in tough conditions where reliable transportation must be guaranteed.

However, the versatile GEDA hoists can also be used in completely different environments as demonstrated by the installation of a 300 ZP P transport platform in the warehouse of the luxury online shop mytheresa.com in Kirchheim near Munich.

Luxury hoist for luxury fashion

Launched in 2006 the fashion label mytheresa.com now sells products from over 180 top international designers through its online shop. Only products that are both elegant and trendsetting find their way into the warehouse of the luxury online shop and it goes without saying that such a warehouse must take advantage of the very best in engineering support to ensure it continues to operate smoothly.
Therefore a 300 ZP P permanent transport platform from the Bavarian manufacturer GEDA-Dechentreiter GmbH & Co. KG. will now deliver the clothing from the basement to the photo studio on the first floor where current fashion trends are photographed on the models in order to constantly replenish the online shop with the latest images.
The transport platform was sold to mytheresa by the Munich-based company Fischbacher and through its long-standing close collaboration with GEDA, the two companies found the perfect solution for mytheresa.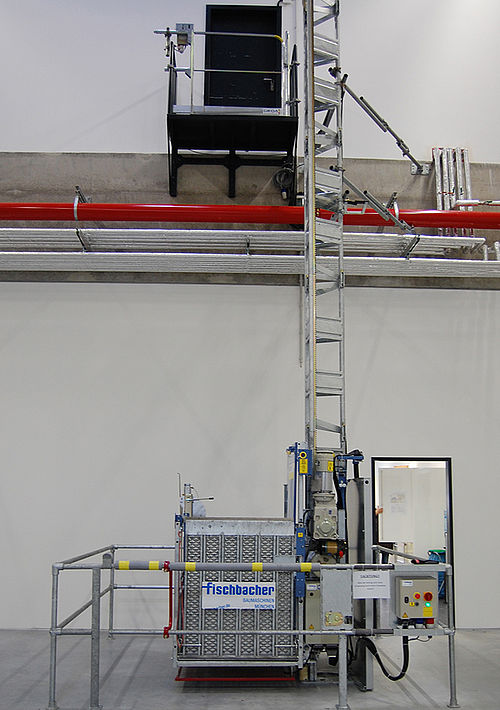 By deciding on the GEDA 300 ZP P the luxury fashion store selected the "top model" from the permanent transport platforms. With its perfect dimensions and platform size of 1.35 m x 0.95 m, the hoist reliably and safely transports up to 300 kg or 3 people up and down. Its lifting speed of 12 m/min and lifting height of up to 50 m make it the perfect fit for mytheresa.com.

In order to further increase the safety of the installation at mytheresa.com, the GEDA 300 ZP P has been equipped with a protection grid underneath the hoist car. A GEDA landing level safety gate ensures the safe transfer between platform and landing at the top entry and exit points.

As with all GEDA rack and pinion hoists with a load capacity between 300 kg and 2,000 kg, the 300 ZP P permanent transport platform can also be used with the GEDA UNI-MAST system. This is of specific benefit to rental companies since a standardised mast system enables huge savings in investment and warehousing costs.

GEDA Transport Platforms – the Original

GEDA permanent transport platforms facilitate and expedite regular buildings inspections, maintenance and other necessary servicing work. And what's more they can also be retrofitted with very little effort and minimal downtime to existing installations and buildings, due primarily to their low anchoring forces. Over eight decades of proven know-how, continuous development and unique quality have made the GEDA transport platforms strong partners for heavy loads and efficient work methods.

And now the GEDA 300 ZP P permanent transport platform cuts a fine figure in the warehouse at mytheresa.


---