GEDA material hoist impresses in Japan
Successful use of the GEDA 200 Z at construction sites opens the door to the Japanese market for the German manufacturer of construction and industrial hoists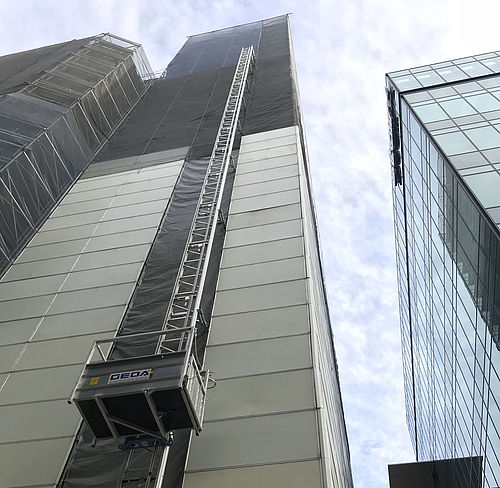 Together with renowned partners such as Nisso Industries Co. Ltd. – a Tokyo-based company specialising in manufacturing, sale and leasing of construction site equipment – the German specialist for construction hoists and industrial elevators GEDA-Dechentreiter GmbH & Co. KG has completed its first successful projects with the GEDA 200 Z material hoist at construction sites on the Japanese market.

The GEDA 200 Z is proving itself a convincing asset for scaffolding work and the subsequent transport of all construction materials at construction sites throughout the country. It is consequently in use at a variety of construction projects in the Iberaki or Akita prefectures as well as in the Japanese metropoli of Tokio, Osaka or Fukuoka.
Overall, 48 GEDA 200 Z material hoists made the long journey to Japan – with an upward trend.
"Always with our eyes on the market, one of our ultimate objectives is to offer our customers worldwide suitable height access solutions for their market requirements. We have been very successful with the GEDA 200 Z on the Japanese market and the satisfied customers throughout the country prove that we are on the right path," explains Kazimierz Wasilczyk, Regional Sales Manager at GEDA.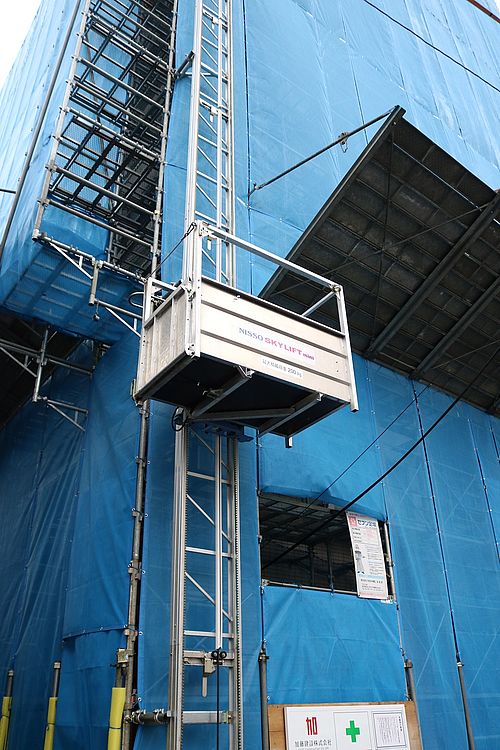 Efficient scaffolding setup and material transport with the GEDA 200 Z

Japanese customers appreciate the unique advantages of the GEDA 200 Z: The compact and lightweight material hoist is the ideal helper for scaffolders and construction workers. At the place of use, it impresses with easy setup directly from the platform and with its very small footprint.
The patented quick lock system of the ladder sections replaces complicated threaded connections and allows quick and easy assembly of the device.
The base unit and the platform of the GEDA 200 Z require an area of only 1.5 x 1.5 m on the ground, allowing loading of the platform (which weighs only 44 kg) parallel to the building without problems. As the platform can be swivelled to the right and left by 90 degrees, unloading at the different landing levels is also perfectly easy.

With a load capacity of 200 kg and a lifting speed of 25 m/min, the GEDA 200 Z achieves a lifting height of up to 35 m. The material hoist is designed to be easy to maintain and repair, ensures rapid scaffolding setup and provides smooth and efficient material transport at construction sites.

GEDA gains a toehold in the Japanese market

Everything is pointing towards the future on the Japanese market. GEDA has not only successfully established the GEDA 200 Z material hoist on the market – the GEDA Maxi 120 S is also celebrating its first successes at construction sites already. According to Regional Sales Manager Kazimierz Wasilczyk, the GEDA BatteryLadderLIFT will be the latest innovation from the construction and industrial hoist specialist to arrive in Japan.
---