GEDA mixes in
Permanent transport platforms are installed in BUNTE asphalt mixing plants
Operating throughout Germany, JOHANN BUNTE Bauunternehmung has acquired a competent technical support tool for two of its asphalt mixing plants. Permanently installed GEDA 500 ZP P transport platforms in its plants at Georgsheil and Ahlhorn are mixing in at dizzy heights.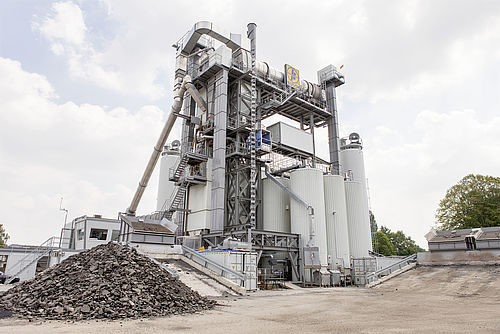 Exposure all year round to wind and weather, together with their handling of heaving loads, place high requirements on BUNTE's asphalt mixing plants. However, sophisticated technology is used inside the gigantic plants.
The asphalt mixture is created by means of a thermal mixing process of mineral rocks, rock flour, binding agent and if required, additives. The BUNTE plants comply with the latest standards and have been built according to state-of-the-art energy and environmental standards. None of the limit values required by the legislators in relation to noise, odour and dust pollution are reached. With an annual production capacity of 150,000 tonnes, the Georgsheil mixing plant supplies building sites in a radius of up to 100 km. In Ahlhorn the annual capacity is also around 150,000 tonnes.

The innovative BUNTE plants naturally require the best height-access technology, therefore, the two asphalt mixing plants in Ahlhorn and Georgsheil have each been equipped with a permanently installed transport platform supplied by the Bavarian manufacturer GEDA Dechentreiter GmbH & Co. KG. Both GEDA 500 ZP P devices have proven themselves as reliable helpers along the mixing module towers and as an efficient energy saving alternative to the staircase tower

Regular maintenance works are essential for ensuring smooth processes in asphalt production. Therefore the tower-shaped mixing modules must be accessible at all times, and often the only way to ensure this is the arduous climb up the staircase tower and here time and cash fall by the wayside in the truest sense of the word.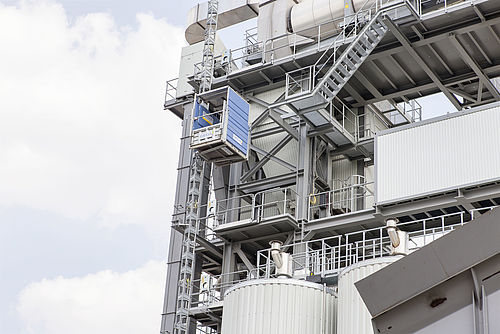 GEDA 500 ZP P meets the highest standard

For maintenance and repair works, the permanent GEDA 500 ZP P transport platforms are used for the transportation of tool carriages, welding equipment and burners, but also for the transportation of spare parts, e.g. for the parallel drum. The 1.6 x 1.4 metre platform with a rated load of 500 kg or five people provides enough space to also transport bulky and heavy parts easily and safely up and down.
The transport platforms have also been specially adapted to the requirements of the asphalt mixing plants and they can withstand the difficult conditions. High levels of dust generation are part of everyday life here. Therefore both devices are fitted with a roof and also with additional side panelling on the platform.

The installation of the two GEDA transport platforms has translated into a huge time and cost saving for BUNTE, since with a hoisting speed of 12 m/min, a fast transportation of people and materials is guaranteed. Special GEDA landing level safety gates at each of the landings ensure the safe transfer between the platform and the landing.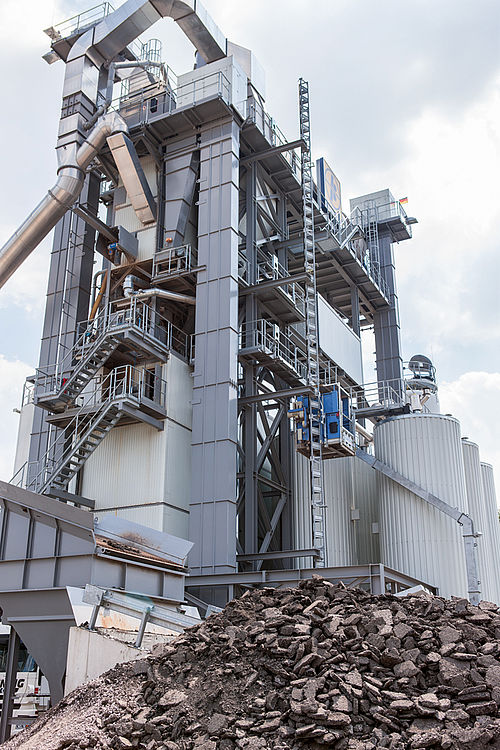 It's the mix that does it – two traditional companies start collaboratio

GEDA permanent transport platforms facilitate and expedite regular buildings inspections, maintenance and other necessary servicing work. And what's more they can also be retrofitted with very little effort to existing installations and buildings, due primarily to their low anchoring forces. Over eight decades of proven know-how, continuous development and unique quality have made the GEDA transport platforms strong partners for heavy loads and efficient work methods.

Founded in 1872, BUNTE Group is today one of Germany's leading construction companies. Across Germany and in other neighbouring European countries, BUNTE is involved in numerous infrastructural new build, restoration and rehabilitation projects. The company's service portfolio includes the construction of motorways, major trunk roads and local roads, cycle paths and development projects around airports, industrial plants and trading estates

It is therefore not surprising that both companies have together achieved the best possible solution for the asphalt mixing plants at Georgsheil and Ahlhorn and will now continue their collaboration. A new joint project is about to kick off.


---