GEDA presents itself with style at Air & Style Munich 2011
The top class winter sport event took place on 12 February: the Nike 6.0 Air & Style Munich 2011. After a three-year break, the mother of all snowboard events returned to the Bavarian capital, attracting 25,000 spectators to the Munich Olympic Stadium.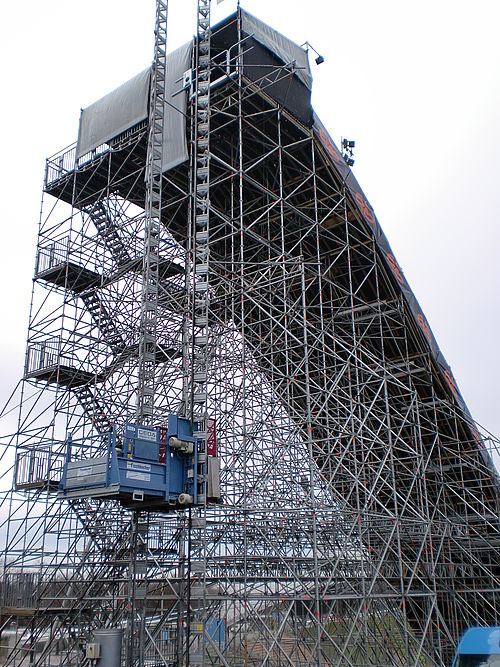 One of the largest snowboard jumps anywhere in the world was built especially for the event – a mammoth steel, wood and snow construction. To provide the optimal conditions for the snowboarders over 2,000 m³ of snow were used for the acceleration ramp and the landing mound.

There was an excellent range of snowboarders taking part in this event with a prize totalling €75,000 and the "Ring of Glory" at stake for the best boarder. Within this unique setting, Peetu Piroiinen from Finland was crowned the winner. The perfect music line-up and fringe programme provided for a brilliant atmosphere.

The participants were to be conveyed to and equipped for the starting point of 41 m above the stadium floor as safely and yet as cost-effectively as possible. Two other factors played a major role in selecting the type of transportation: to be able to keep to the tight schedule it was crucial that quick set-up and removal could be guaranteed. Furthermore, the events organisers were looking for a reliable model as any kind of failures during the competition phase were simply unthinkable. The GEDA 1500 Z/ZP dual mast transport platform with "B" platform excelled in all factors and came out as the winner.

The GEDA 1500 Z/ZP is a material and transport lift for passengers and material all rolled into one device. As soon as the GEDA 1500 Z/ZP is switched into "transport platform" mode up to seven people are also allowed to travel with equipment in contrast to other standard material lifts. In this case, load capacity is 1500 kg and in "material lift" mode up to 2000 kg. Thanks to the modular design, the transport platform from GEDA is easy to handle.

To ensure ultimate safety the transport lift is secured to the jump substructure made up of Layher scaffolding material every 10 metres.

Fischbacher Baumaschinen based in the Bavarian capital was the company that hired the GEDA transport platform for its extraordinary use. Fischbacher and the mechanical engineering company, GEDA-Dechentreiter GmbH & Co.KG, located in Asbach-Bäumenheim, have worked together as partners for years.

GEDA can declare with pride: "we were there at Air & Style conveying the world elite to the starting line!"
---