GEDA Xtreme Transport Platform
GEDA 1500 Z/ZP on the starting line of the X-Games in Munich
Reference: sport2.de

The X-Games are a bit like the Olympic Games for extreme sports. However, the fun-loving, extreme athletes are not competing for their countries since their main focus is on the discipline itself and having fun. For the first time the most important international event for skateboarding, BMX, MOTO X, mountain biking and rally-car racing was held in Munich. So from 27 to 30 June the Bavarian capital was totally enthralled by backflips, slides and adrenalin junkies.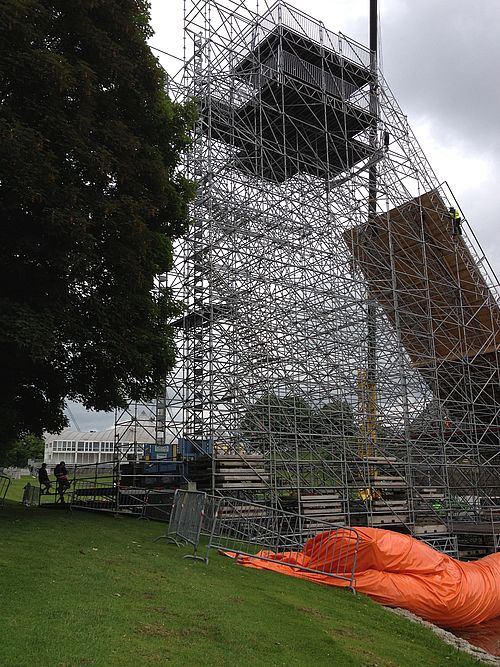 The absolute eye-catcher was Big Air – the world's first floating ramp consisting of a 26 metre high, 112 metre long and 53° steep monster in the middle of the Olympic Lake. Skateboarders and BMX riders plunged out from here into the middle of the action. In the different disciplines of Park, Street League, Vert and Big Air they showed off their abilities in spectacular stunts.

The ramp was supported by a huge scaffold construction and it was here on the mega-ramp itself, where a GEDA transport platform made its huge appearance. The scaffold material for the substructure as well as the materials for the construction of the ramp itself were transported upwards by the GEDA 1500 Z/ZP. During the event the transport platform transported the athletes safely and quickly from the start point to the dizzy heights. The construction hoist was supplied from the rental equipment stock of the Munich-based company Fischbacher which has been a partner of GEDA-Dechentreiter GmbH & Co. KG from Asbach Bäumenheim for many years.

The GEDA 1500 Z/ZP has two separate control systems and it can be used both as a pure materials lift and also as a transport platform for people and materials. The transport platform control system has a speed of 12 m/min and this is activated for the transportation of people and materials. If only building materials are to be transported it can easily be switched to materials lift mode with a speed of 24 m/min. The platform has been designed with a load capacity of 2,000 kg (people and/or loads) and has a lot of space for bulky and heavy construction materials, thereby delivering optimum logistics during construction.

Even for a daredevil event such as the X-Games, the combined 1500 Z/ZP device is naturally equipped with the usual safety equipment such as limit switches, speed-dependent safety gear, safety stop and overload protection. As with all GEDA rack and pinion lifts, the automatic lubrication equipment is included as standard which ensures significantly lower wear and tear on the toothed rack and pinions.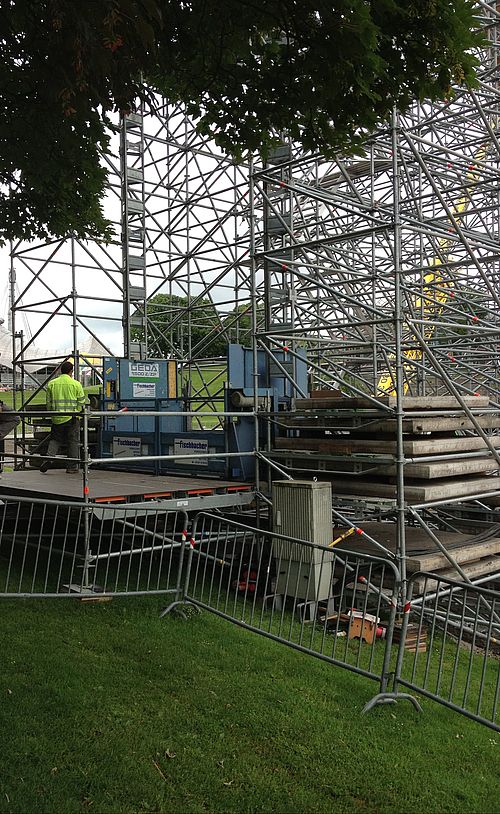 In the disciplines of "Reliable Construction" and "Fast Transport" up the Big-Air Mega Ramp, the GEDA 1500 Z/ZP has absolutely proven itself as "X-treme compatible". Perhaps it will perform once more if the Olympic Park again becomes the Mecca for the BMX and skateboarding elites.
---