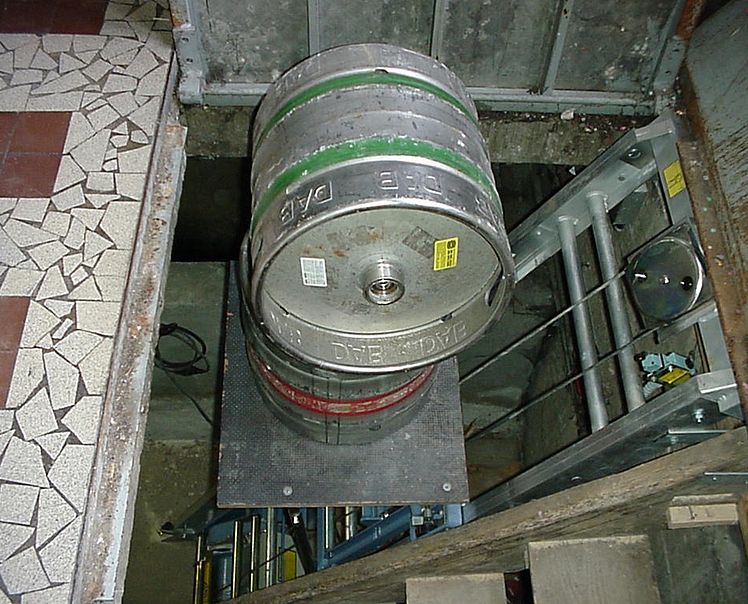 GEDA BEERLIFT
Compare
Owners of inns, restaurants and pubs often face the problem of having to transport barrels or cases to the basement in order to store them.

During the transport of the drinks from and to the basement, they are shattered. Basements can often only be reached via steep stairs. This represents a considerable risk for people charged with transporting the barrels and cases.

The GEDA beer hoist, which has been especially designed for this purpose, will help you transport full and empty barrels and cases without any danger or effort. This spares the drinks and the people who have to transport them.

The GEDA beer hoist is extremely space saving: you can install the hoist parallel to the stairs.
Technische Daten und Voraussetzungen

Für seinen Einsatz kann der GEDA Bierlift direkt neben der eigentlichen Treppe angebracht werden, sodass das Personal auch weiterhin problemlos in den Keller steigen kann. Fachgerecht angebracht, kann der Lift bis zu 200 kg mit einer Hubgeschwindigkeit von 25 m/min transportieren und benötigt dafür lediglich einen 1 kW/230 V/50 Hz/16 A Stromanschluss.


Passende Ergänzungen zum GEDA Bierlift

Mit Hilfe der passenden Leiterteile, kann der Lift um 0,5 m oder 0,75 m beziehungsweise 1 m bis hin zu 2 m verlängert werden. Die Leiterteile sind ebenso für den Transport von 200 oder 250 kg schweren Gegenständen ausgelegt und sie werden mit den passenden Ringmuttern zum Anbau geliefert.
Wenn vor allem kleinteiliges oder eher instabiles Material mithilfe des Bierlifts transportiert werden soll, kann sowohl die Universalpritsche, als auch die Vario-Bühne eine sinnvolle Ergänzung sein. Beide sind ebenfalls für 200 bis 250 kg schwere Transportgüter ausgelegt und sind durch einen klappbaren Seitenschutz leicht zugänglich. Bei der Vario-Bühne kann zudem die Neigung eingestellt werden, was beim Einsatz an besonders steilen Treppen sehr hilfreich sein kann.


Technical Data Refresh
| | |
| --- | --- |
| Cargo | Material |
| Load capacity (material) | 200 kg |
| Lifting speed | 25 m/min |
| Power supply | 1 kW / 230 V / 50 Hz / 16 A |
Appropriate accessories


Ladder section 200/250 kg - 2 m
Ladder section 200/250 kg - 1 m
Ladder section 200/250 kg - 0.75 m
Ladder section 200/250 kg - 0.50 m
Ladder section 150/200 kg - 2 m
Ladder section 150/200 kg - 1 m
Ladder section 150/200 kg - 0.75 m
Ladder section 150/200 kg - 0.50 m
More GEDA professionals for your use
---