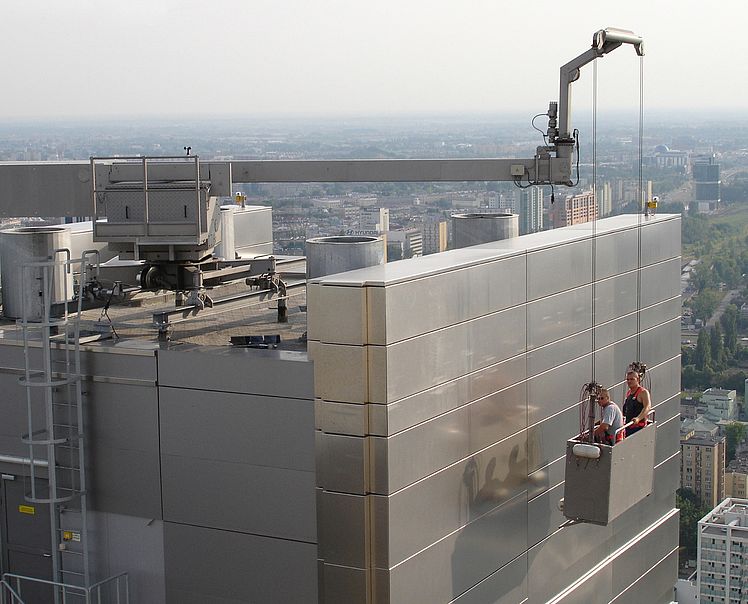 GEDA Façade Hoists
Compare
Façade Hoists – Smart Access to all Façade Elements
For the cleaning and maintenance of facades it is possible to install during or after the construction permanent installations like façade hoists. These installations enable workers and service employee access to façade units that cannot be reached otherwise. A façade hoist needs to be chosen wisely, as every installation is different in its technical and economical parameters. GEDA combines these factors within their façade hoists and individually plan and manufactures the machinery according to the customers' needs.
Façade Hoists: Technical Information

GEDA façade cleaning hoists run either on tracks or concrete and offer different kinds of gear, i. e. drum lifting gear for lifting and lowering the personnel lift (PL). In addition, all hoist types can be traversed or turned using a motor. GEDA façade cleaning hoists stand out through their special extra functions including tilting and telescoping of the boom and/or the masts.
As an option, a load winch can be incorporated to change glass or specific elements of the front. All façade cleaning hoists are designed, manufactured and commissioned in accordance with EN1808: Safety Requirements on Suspended Access Equipment.


Simple Cleaning and Window Exchange

If a building maintenance unit is predominantly used for cleaning and every now and then for the exchange of facade and window elements, GEDA façade hoists are quite handy. Because of the tilting function, it is possible maintain or clean areas of the façade that are difficult to reach, independently of the building height. The workers fulfill their duties from a safe cage that holds back lose material, utensils and of course the personnel.


GEDA Façade Hoists' Advantages

A building with an installed façade hoist guarantees high security standards for working personnel. The workers can manage the handling of the installation easily and safely. Even when it comes to maintain the façade hoist itself. GEDA guarantees a high-quality durability for using the machinery in all working conditions.

Purpose: cleaning, repairing, maintenance
Drive: rails, concrete
Drum lifting gear
Additional Functions: roppers, telescoping, load winch

Of course, we will plan, design and manufacture special systems for you, adapted to their intended use. In addition, to the provision and installation of systems for new buildings, we also exchange old devices for new.


Kuwait-City

Show news article
More GEDA professionals for your use
---