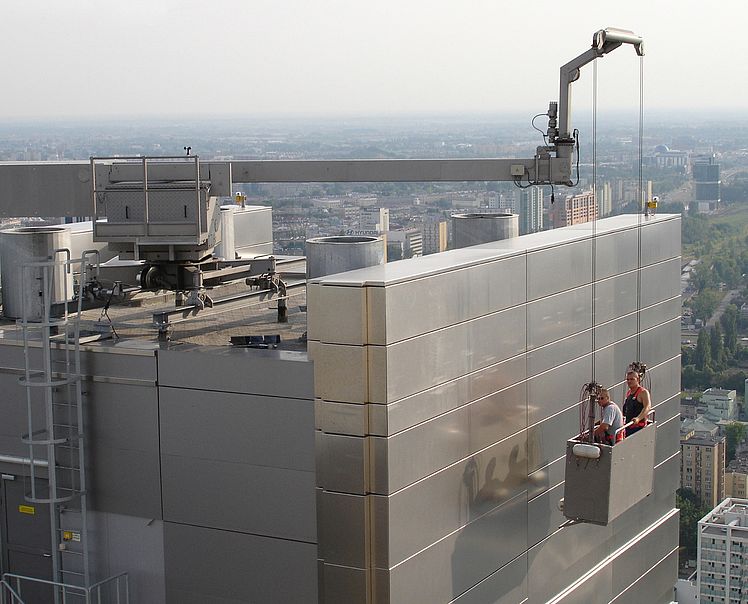 GEDA Façade Hoists
Compare
Facade cleaning hoists are mainly used to clean facades but can also be used to exchange facade elements and window elements.

GEDA facade cleaning hoists can run either on tracks or concrete. Chassis running on concrete are guided appropriately. The technical data is listed in the table below.

All the different types of facade cleaning hoists have drum lifting gear used for lifting and lowering the personnel lift (PL). In addition, all hoist types can be traversed or turned using a motor. GEDA facade cleaning hoists stand out through their special extra functions including tilting and telescoping of the boom and/or the masts.

As an option a load winch can be incorporated to change glass or an element. All facade cleaning hoists are designed, manufactured and commissioned in accordance with EN1808 – Safety requirements on suspended Access Equipment.

We will of course plan, design and manufacture special systems for you adapted to their intended use. In addition to the provision and installation of systems for new buildings, we also exchange old devices for new.
Reinigung und Fenstertausch leicht gemacht

Wird eine Befahranlage vor allem zum Reinigen beziehungsweise hin und wieder auch zum Austausch von Fassaden- oder Fensterelementen benötigt, empfiehlt sich ein Fassadenaufzug. GEDA bietet Fassadenaufzüge als fahrbare Aufzüge für Schienen oder geführt auf Beton an.
Die GEDA Fassadenaufzüge sind zum Heben und Senken der Arbeitsbühnen mit einem Trommelhubwerk ausgestattet und können sowohl elektromotorisch verfahren als auch gedreht werden.
Darüber hinaus bieten die Aufzüge spezielle Zusatzfunktionen, die den Arbeitern ermöglichen, die Ausleger oder Masten zu teleskopieren und durch bestimmte Bereiche besser zu erreichen. Wenn spezielle Arbeiten, wie beispielsweise der Tausch eines Fassadenteils oder einer Fensterscheibe, vorgenommen werden sollen, kann nachträglich eine Lastwinde verbaut werden.


Die Vorteile der GEDA Fassadenaufzüge auf einen Blick:
• Einsatzgebiet (Reinigung, Wartung)
• Fahrtechnik (Schienen, Beton)
• Trommelhubwerk
• Zusatzfunktionen (Wippen, Teleskopieren, Einbau von Lastwinde)

Alle GEDA Fassadenaufzüge werden gemeinsam mit dem Kunden und mit Blick auf gesetzlich vorgegebenen Sicherheitsanforderungen geplant, konstruiert, gefertigt und integriert.




Kuwait-City

Show news article
More GEDA professionals for your use
---