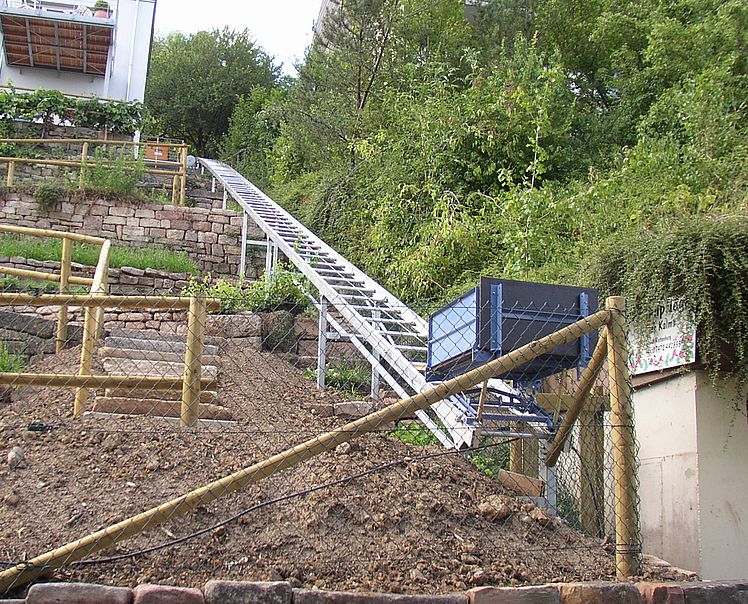 GEDA SLOPELIFT
GEDA Slopelift – Your Assistant for Inclined Demands

People living in houses built on slopes are facing the problem of transporting different kinds of loads to their house on a daily basis, especially when they are renovating. With the GEDA Slopelift all that's a breeze! This small but powerful and above all very handy hoist allows you to transport loads of up to 200 kg without any effort. Carrying massive loads of bricks and palettes is quite dangerous, as the risk of losing your strength is always possible and heavy objects may fall out of your hands. You can use the slopelift for almost any inclination of the slope and it can be assembled with a ladder length of 80 m. Whether you're on top or at the bottom of the hill, the GEDA Slopelift can be controlled from either way.

product-video
Compare
GEDA Slopelift – Handy and Efficient

Just like any other GEDA product, the German engineer offers two kinds of variants for the GEDA Slopelift: Standard and Comfort. Both hoists can be operated with only a quick instruction of the operating elements. In no time, extremely heavy loads can effortlessly be transported on top of the hill. Because of the slopelift's construction, the hoist can be mounted at any slope gradient. The tracks' maximum length is 80 m and the separate modules can be composed simply and fast. Renovating houses built on slopes has never been so easy!
One Duty, two Standards

Despite the same transportation length, the two standards differ in their power. The GEDA Slopelift Standard helps you to transport up to 200 kg. If you need to move even heavier materials, the GEDA Slopelift Comfort carries a weight of up to 250 kg – uphill and downhill. The lifting speed is either 25 m/min for the standard-version and 30 m/min for the comfort-version. A further small but noteworthy difference lies in the needed power connections:
GEDA Slopelift Standard: 1 kW / 230 V / 50 Hz / 16 A
GEDA Slopelift Comfort: 1,3 kW / 230 V / 50 Hz / 16 A
Suitable Accessories for GEDA Slopelift

As every slope is different and no hill is leveled, GEDA provides you with different supplies to expand the possible uses. For example, the angle track sections allow to bridge uneven paths, are offered with an angle of 20° and 45° and are infinitely variable. Further features are:
Rotatable elements
Extension of 1 m long ladder segments, including a winch assembly of 150 kg or 200 kg, as well as 200 kg or 250 kg
Hoist extension with different lengths of ladder elements
Rope protective wheels
For a professional and secure transport, GEDA offers a universal and the so-called vario-platform. Both devices have foldable side protection to enable an upwards and downwards inclined transportation.
If you need any assistance for choosing the right GEDA Slopelift our team will gladly help you. Just call us and we answer any question of yours – extensively.
Technical Data Refresh


| | | |
| --- | --- | --- |
| Model | GEDA SLOPELIFT 200 STANDARD | GEDA SLOPELIFT 250 COMFORT |
| Cargo | Material | Material |
| Load capacity (material) | 200 kg | 250 kg |
| Lifting height | 80 m | 80 m |
| Lifting speed | 25 m/min | 30 m/min |
| Power supply | 1 kW / 230 V / 50 Hz / 16 A | 1.3 kW / 230 V / 50 Hz / 16 A |
Appropriate accessories


Ladder section for winch attachment 150/200 kg - 1 m
Ladder section for winch attachment 200/250 kg - 1 m
Ladder section 200/250 kg - 2 m
Ladder section 200/250 kg - 1 m
Ladder section 200/250 kg - 0.75 m
Ladder section 200/250 kg - 0.50 m
Ladder section 150/200 kg - 2 m
Ladder section 150/200 kg - 1 m
Ladder section 150/200 kg - 0.75 m
Ladder section 150/200 kg - 0.50 m
More GEDA professionals for your use
---