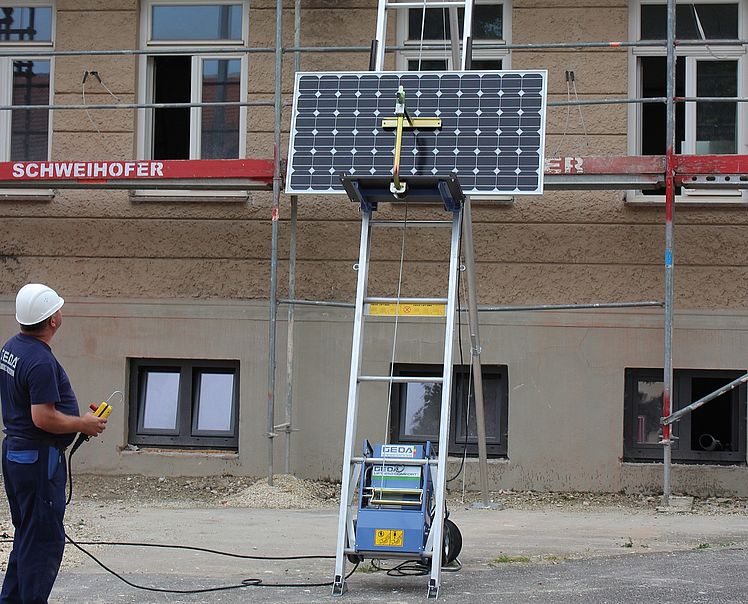 GEDA SOLARLIFT
GEDA Solarlift – a Professional Mounting for Photovoltaic Systems

After the decision of placing a photovoltaic system on the roof has been made, the solar panels need to be mounted. It might sound like a lot of work at first, but GEDA Solarlift is your choice for assembling large and unhandy solar panels and photovoltaic modules. The GEDA Solarlift is very space-saving. Therefore, it can be installed at places that are not easily accessible. This feature as well as the quick and easy assembly, the space-saving storage and the easy transport are the main advantages of the GEDA Solarlift, and the reason for our customers to trust in our German engineered expertise.

product-video
Compare
GEDA Solarlifts – Different Modalities for Your Application Area
The individual elements of the GEDA Solarlift, made of light aluminum, can be dismantled quickly and transported with the help of a chassis in a space-saving and effortless manner. The basic unit of a GEDA solar lift consists of a standard carriage with cable breakage protection, a head section with quick-locking pulley and a 2 m wide foot section. With this equipment three different variants are offered: the single-stage GEDA Lift 200 Standard and GEDA Lift 250 Comfort as well as the two-stage Fixlift 250. The GEDA Lift 250 Comfort and Fixlift 250 models are equipped with a pluggable electric winch, while the GEDA LIFT 200 Standard has a fixed control unit and limit switch. In addition, the models differ in their load-bearing capacity, which depends on the design of the ladder profiles as well as the inclination and rail length. Simple ladder sections with a load of 150 kg / 200 kg and reinforced elements with a load capacity of 200 kg / 250 kg are offered. The lifting speed also varies from model to model. While the one-stage standard model GEDA Lift 200 transports the material at up to 25 m/min, the comfort version GEDA Lift 250 achieves a speed of around 30 m/min and the GEDA Fixlift is equipped with a two-stage so-called soft start. It can move the elements at a speed of 19 m/min or 38 m/min.
All models reach a head of up to 19 m, require little space as well as a power connection.


Unique Concept: the Solar Platform
The GEDA Solarlift has particularly been designed for working with sensitive materials and offers a specific solar platform for a safe transport of expensive solar panels. The platform provides a specially developed plastic surface and an extra fixation possibility which can be adjusted as desired. The second transport variation is the collector platform, which is adjustable for 0,5 to 1,6 m panel width. Also, GEDA provides you with complementary accessories such as a roof trestle for working underneath the ladder.
GEDA Solarlift – one Device, Several Advantages
Altogether, the GEDA Solarlift offers a broad range of advantages. The lift's acquisition costs are worth the money and the lift itself is quite space-saving. Its construction is made of separate modules that can easily be assembled in the desired ladder length. This flexibility also offers the availability to use it at places that are hard to access. GEDA Solarlift is a reliable device on every construction site to transport and assemble solar panels and photovoltaic systems securely. The solarlift also comes with an extra post that supports the ladder segments for heavy loads.
The German-engineered device convinces with an amazing set-up time of only 18 minutes.

If you need more information about the GEDA Solarlift and its accessories, our team of experts will gladly assist you – feel free to call us and we answer any question of yours!
Technical Data Refresh


| | | | |
| --- | --- | --- | --- |
| Model | GEDA LIFT 200 STANDARD | GEDA LIFT 250 COMFORT | GEDA FIXLIFT 250 |
| Cargo | Material | Material | Material |
| Load capacity (material) | 200 kg | 250 kg | 250 kg |
| Lifting height | 19 m | 19 m | 19 m |
| Lifting speed | 25 m/min | 30 m/min | 19 m/min / 38 m/min |
| Power supply | 1 kW / 230 V / 50 Hz / 16 A | 1.3 kW / 230 V / 50 Hz / 16 A | 0.6 kW / 1.2 kW / 230 V / 50 Hz / 16 A |
Appropriate accessories


Ladder section 200/250 kg - 2 m
Ladder section 200/250 kg - 1 m
Ladder section 200/250 kg - 0.75 m
Ladder section 200/250 kg - 0.50 m
Ladder section 150/200 kg - 2 m
Ladder section 150/200 kg - 1 m
Ladder section 150/200 kg - 0.75 m
Ladder section 150/200 kg - 0.50 m
More GEDA professionals for your use
---