Unique innovations, new functions and hoist solutions in proven GEDA quality – GEDA presents the future of high access technology under the motto "feel the reality - virtual.digital.original".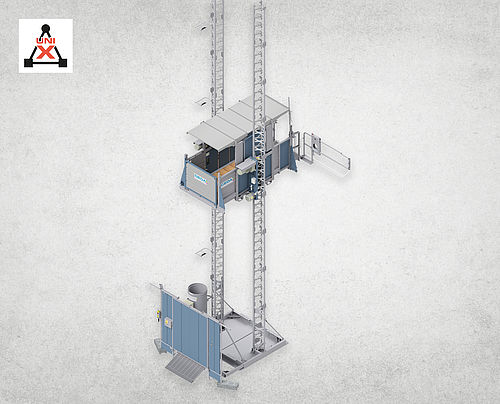 No anchoring? No problem! The new GEDA 1500 Z/ZP F

Another transport platform was already launched in this bauma year. The GEDA 1500 Z/ZP has already made itself indispensable at several construction sites. It is particularly popular in stressful environments where anchorings are not possible due to the architectural situation, glass façades or the current situation at the construction site. GEDA developed a completely new solution for this problem in 2022: the GEDA 1500 Z/ZP. The F stands for "free-standing", meaning that it can be operated free-standing up to a transport height of 12 m and therefore without time-consuming anchorings. The time saved during installation is consequently one of the most important advantages of the GEDA 1500 Z/ZP F. The key features of the proven GEDA transport platforms are of course integrated in the free-standing variants as well, making the device indispensable at a variety of different construction sites. Of course GEDA focused not only on vertical transport during the design phase, but also kept the overall use at the construction site in mind. One important issue is the transport to and from the construction site, which has to be feasible and practical for anyone. The foundation was consequently designed in such a way that it can be easily transported with a standard lorry. The platform runs on two mast masts that ensure stable movement. This is where our well-known GEDA UNI-X-Mast comes into play. A device installed at the GEDA trade fair stand shows what it can do and can be tested on all days.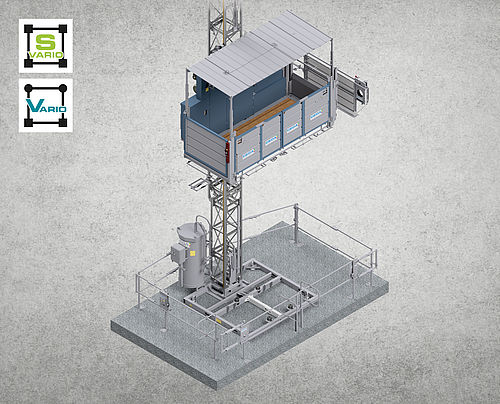 World premiere! GEDA presents new transport platform

Faster, higher, stronger and always "doing one better": The market leader in the field of transport platforms has achieved this for the 25th anniversary of their transport platform. The previous success story of the GEDA transport platform family continues with this new product and will be presented exclusively at bauma 2022. Powerful, comfortable and innovative – this device is likely to set new standards for the future. The GEDA 2500 Z/ZP transport platform is the newcomer from GEDA and will be presented fittingly to coincide with the 25th anniversary of the transport platform. Thanks to the innovative GEDA SVARIO-MAST, the latest generation transport platform is guided on only one mast and has a load capacity of 2500 kg. These properties make the GEDA 2500 Z/ZP the currently most powerful mast-guided transport platform available. Two separate controllers ensure that the GEDA 2500 Z/ZP can be used as a pure material hoist with a lifting speed of up to 40 m/min. Immediately after switching to transport platform mode, the device can be used as a transport platform for moving passengers and materials with a lifting speed of 12 m/min. This makes it easy to transport heavy construction materials to their place of use up to a height of 200 m. The comfortable and large platform with dimensions of 1.45 m x 3.55 m can transport construction materials and up to 7 passengers up and down quickly and safely. The extremely high platform (2.60 m) makes transporting bulky goods easy. The folding wing doors (C side) allow for comfortable loading. For loading the platform on a lorry or transport in a container, the roof can simply be lowered to 2.10 m. Once it has arrived on site, installation can start immediately, as is the case with all GEDA transport platforms. The GEDA 2500 Z/ZP expands the versatile transport platform range and offers another solution for the individual conditions at your construction site.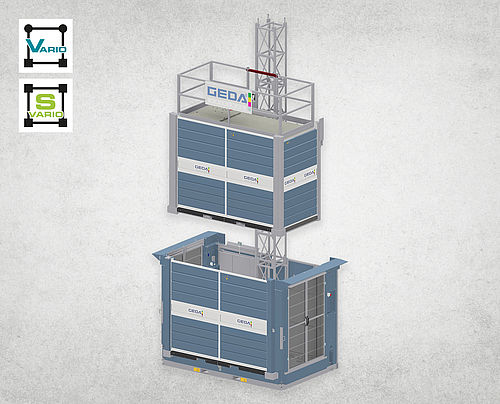 Better than ever before: the new GEDA MULTILIFT P22

The GEDA Multilift series has been established in the market for 15 years and many successful projects have been completed successfully thanks to these devices. The passenger and material hoists have taken particularly the Scandinavian countries by storm and are very popular at a variety of different construction sites. The series previously included four devices for temporary use (GEDA Multilift P6, GEDA Multilift P12, GEDA Multilift P18 and GEDA Multilift P22). There is also a suitable Multilift solution for permanent use, which meets all requirements for transporting passengers and materials on construction sites or in the industrial sector even in the most challenging circumstances. Rudolf von Bennigsen-Foerder: "Standing still is going backwards": That is why a completely redesigned version of the GEDA Multilift P22 will be presented at bauma 2022. Along with all the familiar, valued features of its predecessor, the new device also features an innovative, state-of-the-art design. Its improved capabilities are part of the reason why it is a true highlight in the Multilift series. Its clean style and updated colour concept definitely make this device an eye-catcher. The car interior is also particularly striking. Ease of maintenance and service were key aspects of the design process. All electronic components are accessible directly from the platform. The possibility of remote maintenance also greatly facilitates day-to-day work on a building site and saves both time and money. With an extremely large platform measuring 3.2 m x 1.4 m, this new device makes it easy to transport particularly bulky construction materials. An optional 2.9 m wide C-sliding door is available for convenient front loading. To ensure that these heavy and bulky goods can be hoisted quickly, a lifting speed of max. 54 m/min can be applied. The GEDA Multilift P22 is the powerhouse of the Multilift range. Despite its high load capacity of 2000 kg or 22 passengers, it runs on only one mast of the proven GEDA VARIO mast system. With the Multilift P22, passengers and materials can be transported up to a height of 200 m quickly and safely. The special highlight: the GEDA Multilift P22 is operated with a cable trolley above a lifting height of 50 m. The trolley has a space-saving design so that the entry height at the lowest landing level is still at a comfortable 450 mm. The hoists from the Multilift series are invaluable even when space is at a premium. Compared to most passenger and material hoists, these devices need only a footprint of a few square metres. The already convenient operation of the passenger and material hoist is made even more simple and efficient with the optionally available intelligent call control. The compact pre-installed base unit, which is composed of a car, enclosure, flat cable bin and drive, enables smooth assembly. Installation without a separate foundation completes the overall concept. To keep wear on the gear rack and pinion as low as possible, the GEDA Multilift P22 is equipped with an automatic lubrication device. This lubrication pump is included as standard and is compatible with the entire GEDA Power Grease line.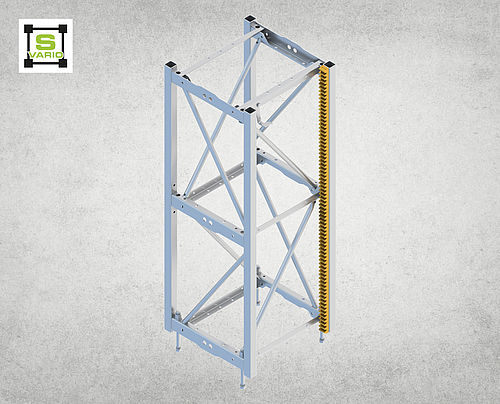 The GEDA mast system of the future

Just in time for bauma 2022, GEDA presents a well thought-out, pioneering mast solution: the new GEDA SVARIO-Mast. The strong, innovative mast system with maximum flexibility offers users unprecedented options. Thanks to its high load capacity and travel height, this mast system is the ideal solution for the new innovative GEDA 2500 Z/ZP transport platform. It is also a suitable mast solution for most devices from GEDA. The economical GEDA SVARIO-Mast system with its clever structural design covers a variety of GEDA hoist solutions with load capacities from 1000 to 3700 kg. The mast elements are compatible with the proven GEDA Vario-Mast system (adapter required*). This new product will be launched exclusively at the GEDA stand with all information on the new GEDA SVARIO-Mast.
* The adapter mast must always be placed on the base mast.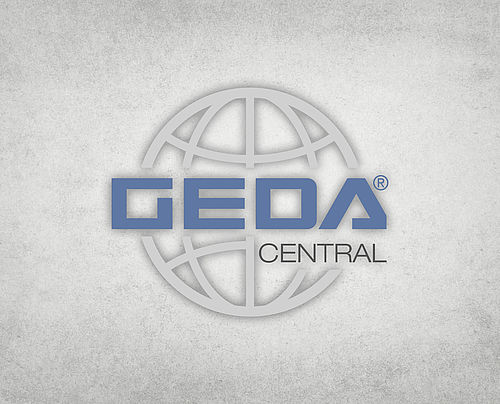 "FEEL THE REALITY – digital."

This topic has even made it into the tagline that GEDA chose for bauma, clearly illustrating how important continuous digitalisation is to the German medium-sized manufacturer of industrial and construction hoists. The construction machinery industry entered the digital age quite some time ago. A digital platform will be presented exclusively at bauma 2022: the new GEDA Central. It is an intelligent online platform for digital services in connection with GEDA hoists. Five of these services will already be presented at bauma 2022. All can be used through GEDA CENTRAL conveniently with just a single user account. The GEDA INSTALLATION DESIGNER is one of these – an extensive online calculation tool for anchoring and ground forces. The setup can be entered quickly and easily to find the optimum installation configuration for individual projects – at any time.
Building data modelling? GEDA has developed a really simple solution for that as well. The GEDA BIM CENTER. This service offers an extensive range of device models and accessories for download in various file formats to enable optimum digital planning of buildings – quickly and easily through GEDA CENTRAL.
The brand new GEDA INSTANT SUPPORT will also be presented. Just after installation of the GEDA hoist comes the shock: The device won't move! Assistance is required quickly because work has to continue without delay. GEDA INSTANT SUPPORT can help to resolve common problems – quickly and easily with a smartphone!
The fourth service in GEDA CENTRAL are the Technical News. This is where users regularly receive technical news from GEDA.
Last but not least, we are announcing the GEDA MACHINE MANAGEMENT for bauma 2022. Remote service, machine locating and planning are only some of the functions. The GEDA MACHINE MANAGEMENT lets users keep an eye on their hoists at all times.
And these features will soon be joined by others. It is very important to us that this is a constantly evolving tool with continuous improvement, in line with the GEDA products.
---