Unique innovations, new functions and hoist solutions in proven GEDA quality – GEDA presents the future of high access technology under the motto "THE NEXT LEVEL".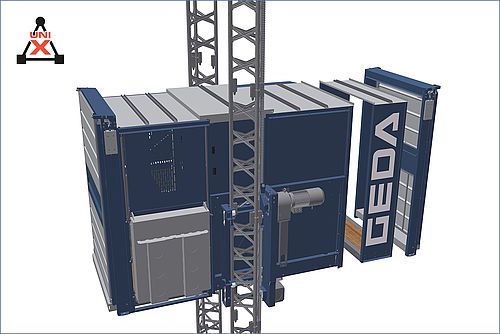 Launched at bauma 2007, the GEDA Multilift series has become successfully established in the market. As a further improvement to a tried-and-tested product, GEDA presents the new and completely revised version of the GEDA Multilift P18 at bauma 2019.

The unique advantages of the new "all-rounder" from GEDA speak for themselves:
Expanding platform: from 3.2 to 3.7 m
Lifting speed: 40 m/min
Reducing the load and/or speed makes switching from a 63-A connection to a 32-A connection possible
Redesigned car interior: No interfering protrusions as all elements were integrated flush
Innovative GEDA UNI-X-MAST system
Extensive control variants of the latest generation – for even more comfort and user convenience
Significantly wider assembly plank for more convenient access during assembly
Easy maintenance: All wear parts are quickly and easily accessible
Option for remote service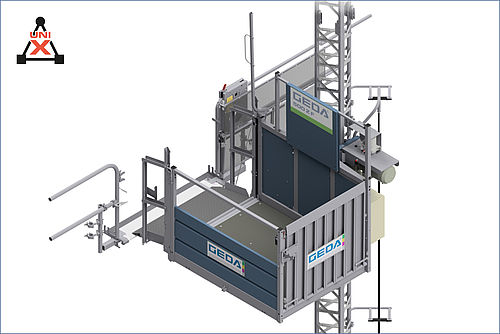 Powerful and efficient — at low and great lifting heights: The GEDA 500 Z F combines the advantages of a compact material hoist with the fl exible operation possibilities of a free-standing construction hoist.
The convenient move-through platform and the ability to operate without anchors up to heights of 9 m allow the GEDA 500 Z F to be optimally adjusted to the conditions on the respective construction site.
Free-standing material hoist with 500 kg load capacity and 24 m/min lifting speed
Free-standing lifting height 6 m or 9 m with additional weights in the foot section
Innovative UNI-X-MAST-System
A stop-next-landing-level control comes as a standard—for even more user friendliness, a landing pre-selection control is available as an option.
Many accessories of the GEDA material hoist range, such as scaffold brackets, lubrication pumps, lifting eyes etc. are compatible with the GEDA 500 Z F.
For stepping safely over onto the landing levels, the GEDA landing level safety gates "STANDARD", "STANDARD-BASIC" and "COMFORT" are compatible with the GEDA 500 Z F.
Max. lifting height 100 m (with mast ties)
---