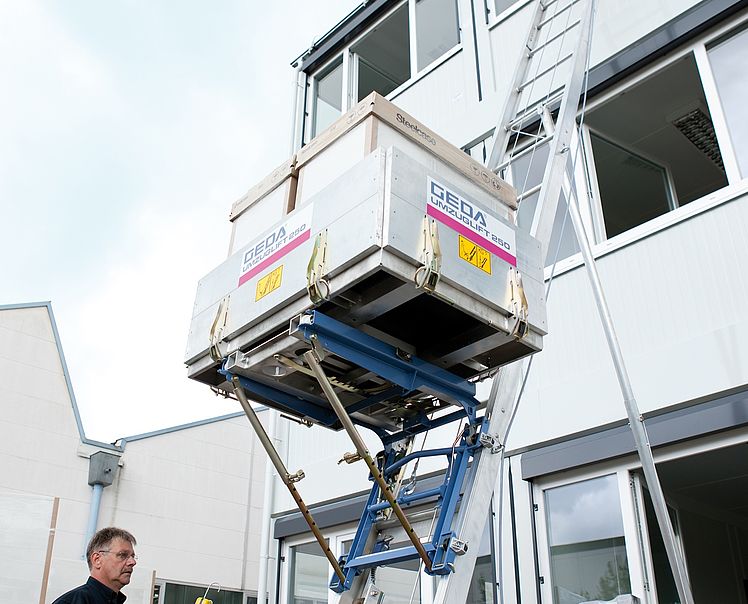 GEDA REMOVAL HOIST
GEDA Furniture Hoists – Variable use with several health advantages

The furniture is packed and now it is all about carrying it up and down the stairs. But it doesn't have to be exhausting at all – with the GEDA furniture hoist, moving is easy and relaxing, and most of all: very easy to your back. A furniture or inclined hoist is an enormous help to transport bulky material on construction sites or during a removal. The external lift can transport heavy furniture and boxes to and from the upper stories. Even the fifth story of a building can be accessed easily to perform fast removals. This saves time, and furniture removers or construction workers won't suffer from joint and back pain.

product-video
Compare
It only takes a few movements

As GEDA furniture hoists are made from aluminum, they are very easy to transport. Quickly and straightforwardly, the hoists can be separated and fit in every transporter or lorry. Having arrived at the construction site or the removal location, the elements can be assembled within a short amount of time and either be combined with a fixed platform or a revolving stage. Generally, for two experienced workers it takes around 18 minutes from the unpacking of the elements to the first material lift to the first story.


Flexible operation site for furniture hoists

The handy individual parts enable an unproblematic assembly, wherever you wish. The hoist's elements perfectly fit through the stairway or the corridor and can be assembled in the backyard. So, the furniture can be brought straight in the intended rooms without unnecessary heavy lifting.


GEDA Furniture Hoists with functional extras

It's always an exhausting fight to transport wide glass panes, sofas, beds, wardrobes, material-filled buckets, bath tubs, or toilet bowls to the upper stories or down to the moving truck. Thanks to the wide range of extras for the GEDA removal hoists, our customers have often decided for a height-adjustable foot part or a bending element for the barricades or the balcony. This guarantees an efficient and highly economical operation between furniture hoist and extras. When in need of an extended lifting height, it is possible to expand the base with an extra ladder segment, so that floors beyond the fifth story can be accessed.


Furniture hoist versions for all application ranges

GEDA offers three types of removal hoists: standard, comfort and perfect.
The versions differ in their lifting speeds. Whereas the single-staged standard model lifts material of up to 25 m/min, the two-staged comfort version and the perfect model can reach a speed of up to 30 m/min. The latter is equipped with a soft start which can slowly be increased from 0 m/min over 15 m/min to 30 m/min.
There are small differences in lifting height and weight. The standard model can lift up to 200 kg to 13 m. If you need a broader lifting height and weight, the comfort and perfect versions of the GEDA furniture hoists fit your needs perfectly. The lifts enable a lifting weight of up to 250 kg to 18,3 m. The advantage of all models: low space requirements for transport and usage.


Why use furniture hoists?

The use of removal hoists offers you four huge advantages:
Hoisting your furniture and construction material through an external lift reduces the damage to stairways, doors and walls. Also, there is no need to use the elevator for transporting heavy removal boxes.
Large items can be moved quickly in bulk through a big transport platform. So, furniture removers are safe when carrying large items to the removal truck.
The removal hoist offers high health advantages, as workers experience no joint or back pain during and after the working hours.
A furniture hoist is the most efficient and economical way of moving your furniture or heavy material on the construction site!

Feel free to contact us, if you have any questions about the GEDA furniture hoists.
Technical Data Refresh


| | | | |
| --- | --- | --- | --- |
| Model | GEDA REMOVAL HOIST 200 "Standard" (one speed) | GEDA REMOVAL HOIST 250 "Comfort" (two speed) | GEDA REMOVAL HOIST 250 "Perfect" (with smooth start) |
| Cargo | Material | Material | Material |
| Load capacity (material) | 200 kg | 250 kg | 250 kg |
| Lifting height | 13 m | 18.3 m | 18.3 m |
| Lifting speed | 25 m/min | 15 m/min / 30 m/min | 0 m/min / 15 m/min / 30 m/min |
| Power supply | 1 kW / 230 V / 50 Hz / 16 A | 0.6 kW / 1.2 kW / 230 V / 50 Hz / 16 A | 1.5 kW / 230 V / 50 Hz / 16 A |
Appropriate accessories


Ladder section 200/250 kg - 2 m
Ladder section 200/250 kg - 1 m
Ladder section 200/250 kg - 0.75 m
Ladder section 200/250 kg - 0.50 m
Foot section 2 m height-adjustable
More GEDA professionals for your use
---