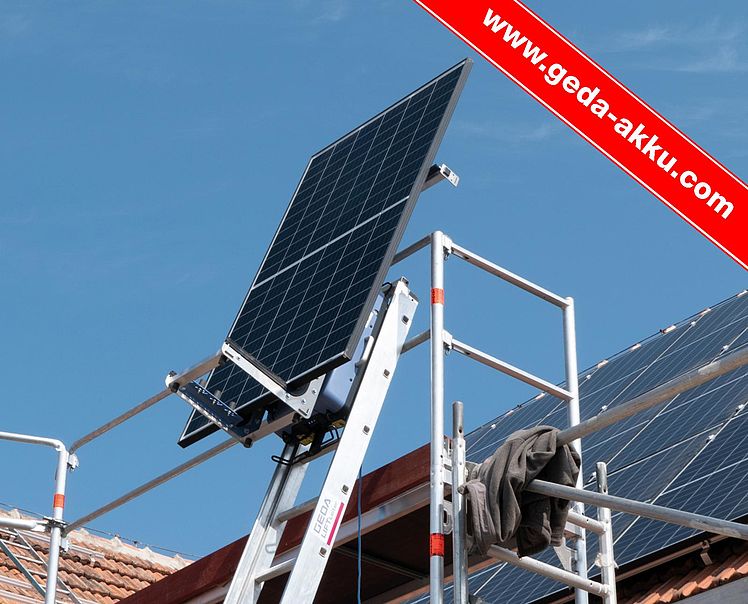 GEDA BatteryLadderLIFT
Compare
With just one touch of a button all kinds of materials are easily transported along the façade, without that tiresome cable spaghetti, leading to faster, smoother construction.

The GEDA BatteryLadderLIFT is THE new kid on the block in compact material hoists. Assembled in a flash by only one person in less than five minutes, the new lift from GEDA uses its powerful 24 V/10 Ah li-ion-battery and different load carrying devices to drive to transport all kinds of materials up to 120 kg. So with just one touch of a button the practical remote radio control sets the compact device in motion from 0 to 15 m/min. Whether the project is a restoration or a new build site, whether for tilers, decorators, window producers, joiners, removal companies, DIY enthusiasts and and and… the GEDA BatteryLadderLIFT is the ideal transportation tool for all those materials that have to be transported upwards quickly and safely. It can be used in virtually every situation.

Product-video
By cleverly combining the support and/or the lean-to ladder using the convenient ladder connection kit, progressively adjustable heights from 2.1 m up to 10 m can be achieved.
Even when the GEDA BatteryLadderLIFT is not needed, the versatile robust ladder can be used as a traditional construction site ladder. All ladders in the GEDA LIFTLadder system stand out due to their unique "Made in Germany" quality.After a short battery charging time of only about 1.5 hours, the compact transport professional is then ready for its next deployment.
The GEDA BatteryLadderLIFT is the perfect complement to the small units range and with the battery technology is introducing a new generation of height-access technology.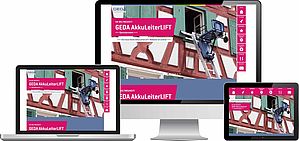 Click here to view the exclusive
GEDA BatteryLadderLIFT website:
Technical Data GEDA BatteryLadderLIFT Refresh
| | |
| --- | --- |
| Cargo | Material |
| Mast system | GEDA LIFTLadder |
| Load capacity (material) | 120 kg |
| Lifting height | 10 m |
| Lifting speed | 15 m/min |
| Battery | Lithium ion battery |
| Battery voltage | 24 V |
| Battery capacity | 10 Ah |
Technical Data GEDA LIFTLadder
Refresh


| | | |
| --- | --- | --- |
| Model | GEDA LIFTLadder 4500 | GEDA LIFTLadder 2400 |
| Ladder type | Lean-to ladder,Stepladder | Extension ladder,Lean-to ladder |
| Length | 4.5 m | 2.4 m |
| Weight | 19 kg | 9.7 kg |
| Particularity | Strengthened ladder link | - |
Appropriate accessories


Load carrying device Basic
Load carrying device Standard
Load carrying device Premium
Load carrying device Solar


Renovation Basilica Dillingen

Show news article
More GEDA professionals for your use
---